I Got Married!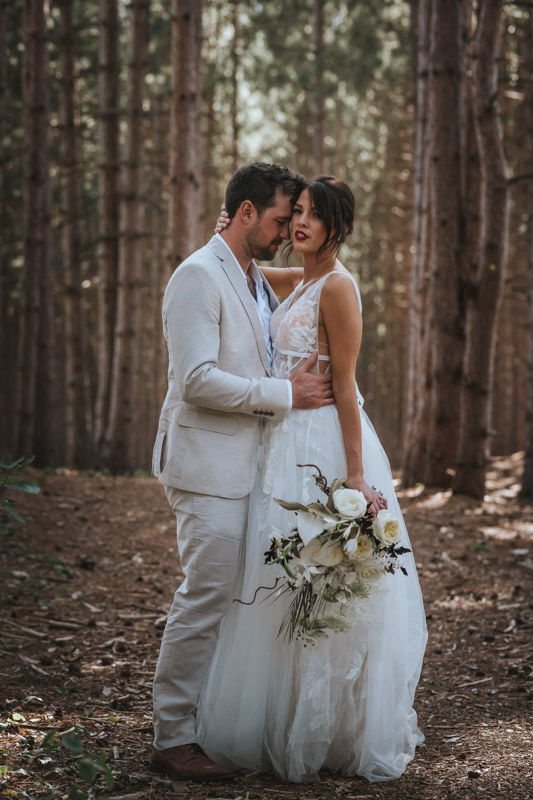 It has been about two months since my wedding and I STILL want to relive the day. It was truly perfect. We honestly could not have asked for a better day and I thought I would use this post to shout out some amazing vendors we used and also share some insight into the timeline of our day 🙂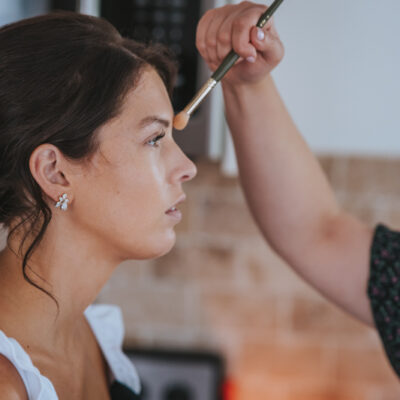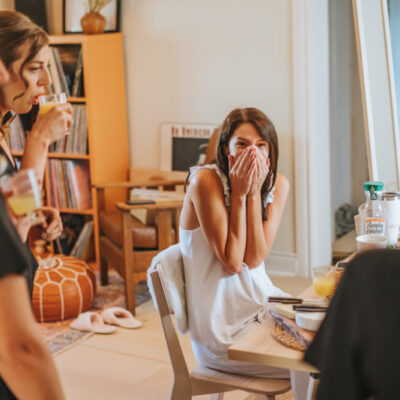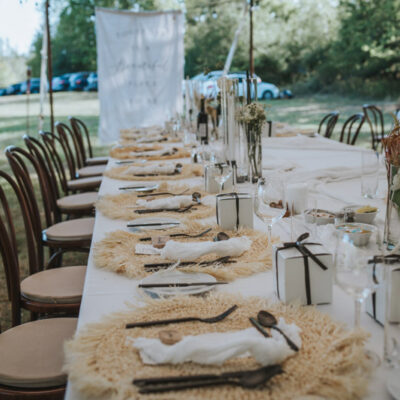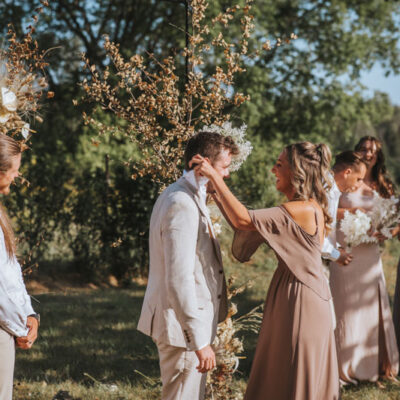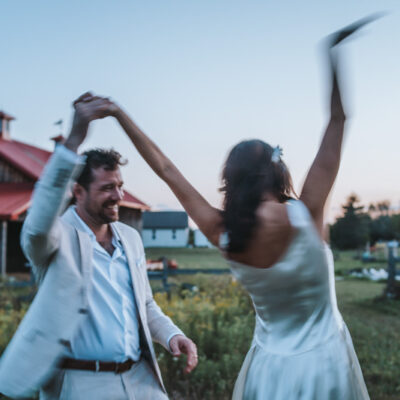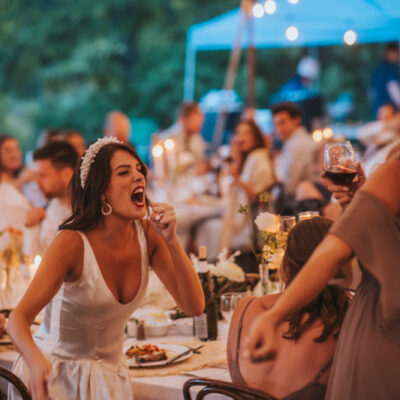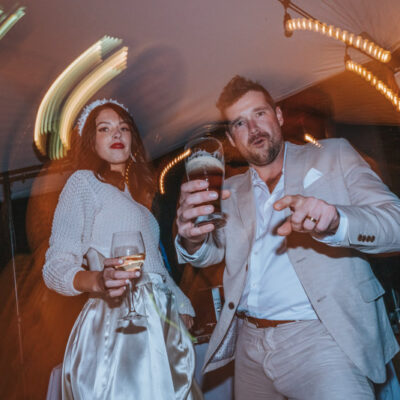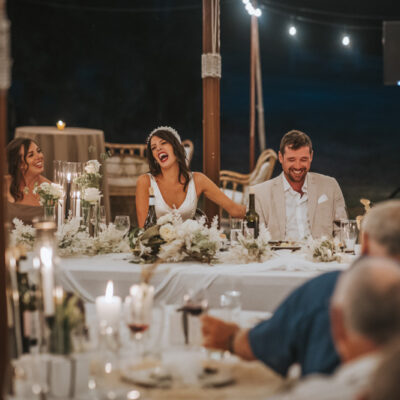 Timeline
Obviously for the girls our day started early because of make-up and hair 😉 . We had 7 girls getting their hair and make-up done so we started around 7:30am! Considering I am not a morning person we had SOO much energy right away. I had a lil slumber party with my gang so I woke up to them coming into my bedroom LOL. Such cuties! We basically danced, and sang all morning. It was SUPER fun. We obvi popped a few champagne bottles and had some snacks and breakfast set out. My bridesmaids surprised me with adorable speeches from each of them during our getting ready process. It was truly so touching and kind and surprising!
Once we were all done with hair and makeup we had some time to chill (which is totally what I wanted so that was perf) before our first look. Our first look was done in front of our house (first look in front of first house 😉 ) and it was a very relaxed moment with all our friends there. We hopped into a limo to go take photos before the ceremony at Pinheys Sand Dunes (one of the BEST picture locations in Ottawa IMO) plus a limo ride is always fun! Once photos were done it was time to head to our ceremony location! This was the same location as our reception at a private property.
I was actually SO nervous to walk down the aisle and say my vows before the ceremony but once it got started I found I relaxed a lot. We got a lot of compliments on how personal our ceremony was which was super lovely to hear. We wrote our own vows and kept the ceremony to about 20 minutes. Post-ceremony wrapped up with champagne (obv) and then family photos.
After family photos I did a lil outfit/look change and honestly this was actually such a fun relaxing moment to go sit with some bridesmaids and have a drink and relax for a bit. Plus I had planned for a longer cocktail hour so Timothy and I had lots of time to chat with our guests and mingle 🙂 We rolled into dinner with speeches spread throughout the meals. We then had the first dance and the father/daughter dance. The only traditions we really stuck with were grand entrance, speeches and the first dance and father daughter dance. Once that was done we essentially just wanted a REALLY good time for everyone so it turned into a really fun party with the dance floor packed all night 🙂
We LOVED our day and it was simple and relaxed but also had the wedding feel. I just love all our photos and am so thankful for everyone and everything that helped bring this day together.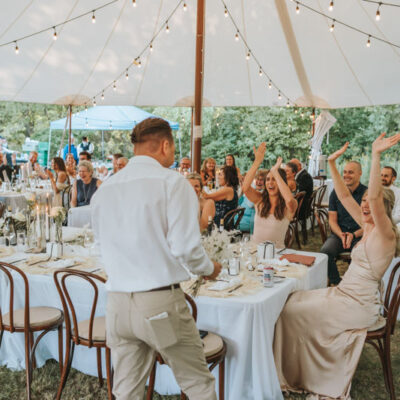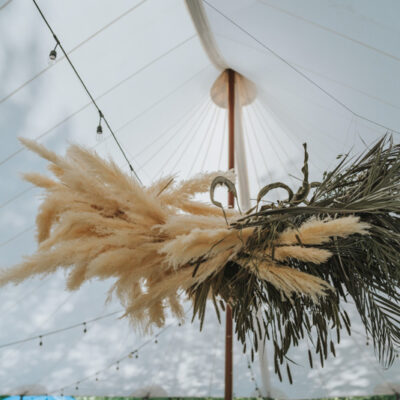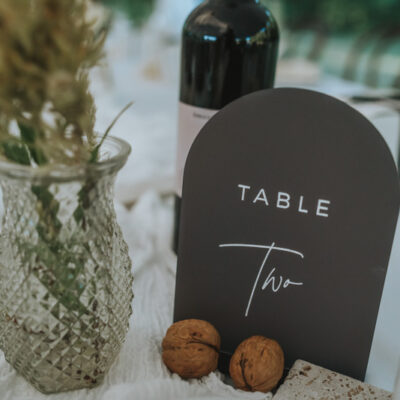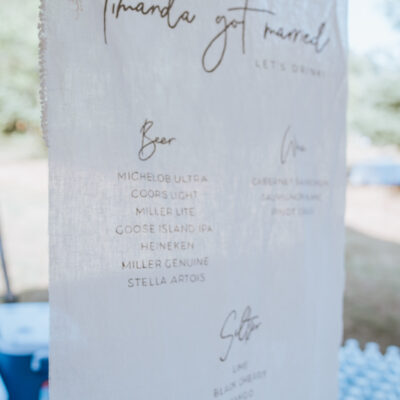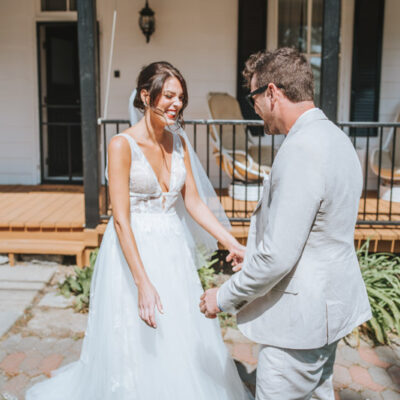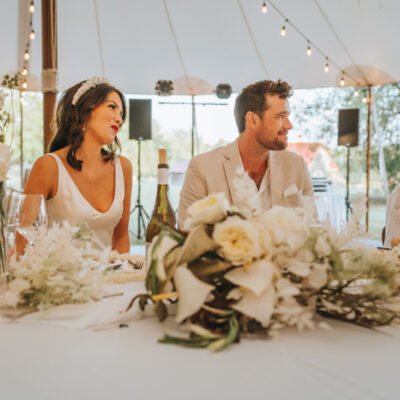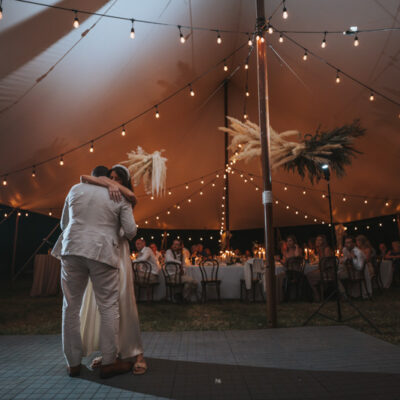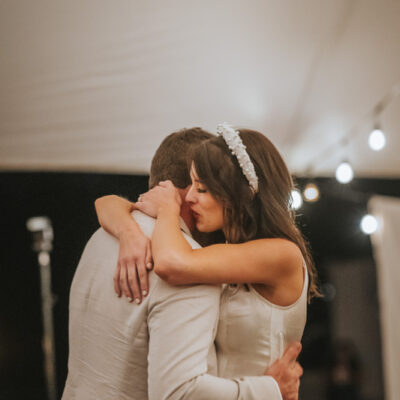 Vendors
In no particular order!
Photography
AKA a GEM. He is a friend of ours who has shot a lot in England and we love his eye and his work! He was there all day to capture every moment. We LOVE him!!
Coordination
Ashley and I have been friendors for a while essentially since I was a student intern and there is no one else I would have wanted there coordinating our day. She was on top of it all! <3
Florals
AH! I love love love Pollen Nation and Katherine is such a gem. I literally booked her in as one of my first vendors. She is lovely, creative, and took time to listen to what I was envisioning.
Glam Team
Amanda (CosmetALogy Beauty Bar) is my hair dresser and I knew I needed her to do my hair on my wedding day. She was a total gem and is so talented. Sarah Coffin is one of our good friends and is such a talented Toronto based makeup artist. No regrets AT all – she killed it (and bonus was a guest so could touch up my makeup whenever;)). I got a spray tan at House of Beauty two days before our wedding and it was seriously a GREAT decision. I had not had time to get my regular summer tan (weddings were BUSY!) and this gave me that look PERFECTLY.
Bridal Style
The first dress I worse and the veil was from Revelle Bridal who I literally cannot recommend enough. I love their lines and the accessories they carry. They were beyond helpful and I loved how easy the whole process was! My earrings (both looks) were Sugarcane and Co. Sam is such a light and kind soul and has amazing styles to choose from! My second look featured a gorgeous headband custom made from Ornaigh. I LOVED it. My second dress was actually my late-grandmothers dress that I had slightly altered to fit me better and to give it more of a modern feel.
Stationery
Having planned a few weddings (covid bride problems) I had stationery all ordered for our original date and then we changed it so I used some of the original from Fielding Milligan and then brought on Avi to bring to life some new visions I had for our day.
Officiant
Keith was a breeze to work with! Everything was well-explained and easy to understand 🙂 Highly recommend!
Rentals + Transportation
ALL amazing and easy to work with 🙂
Music
Fun fact you guys: I worked at Quality Entertainment as their Wedding and Event Manager as one of my first jobs in the event industry! I love the team there and as soon as I got engaged I reached out to Brian and Scott to lock it in!
Catering
Great food and super easy to work with 🙂 Servers were truly so kind and attentive to us and Ana (the coordinator) is super quick with replies.