Cocktail Style Wedding Reception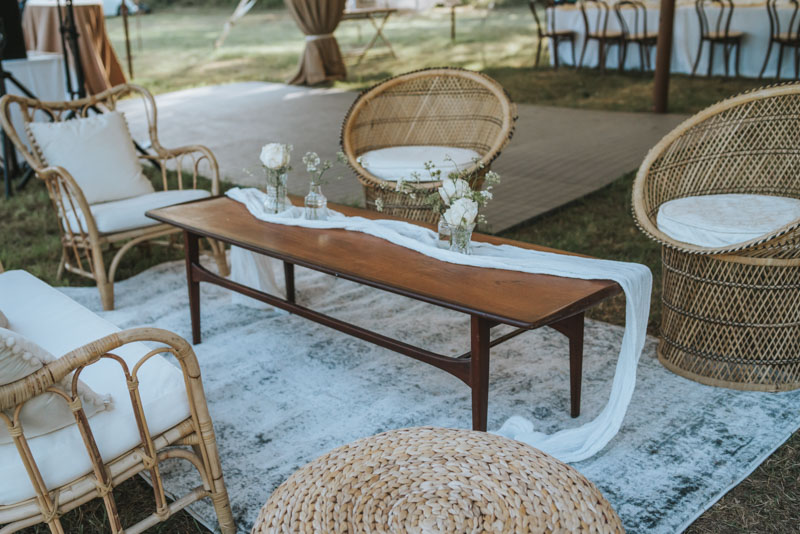 A trend I have been noticing that more and more couples are leaning towards is a cocktail style reception. Less and less couples are wanting to have a formal sit down dinner for their wedding reception. The fun thing about this new trend is the vibe for a cocktail reception can be whatever you want it to be! You can amp it up with a formal vibe or keep it casual – it is totally your choice. The main difference is that the cocktail style tend to be shorter in length so if you are renting your space by the hour this can help you out with costs. Other than that the price range tends to be the same as a sit down dinner. Here are my best tips for a cocktail style reception.
THE SPACE
You will want to have enough space in your venue for the ceremony, a lounge area, a few sit down tables, cocktail tables, and of course food stations. This means you still need the same amount of space as a regular sit down dinner and you do not want that space to look empty.
It is best to ensure the venue you choose allows for your cocktail reception to flow nicely from ceremony into cocktails with some dancing as well. I suggest having your ceremony in one area and have guests move to where the food stations, lounge area, and cocktail tables are for the mingling/drinking/eating time. If you are tight on space for dancing simply use your ceremony area as your dance floor!
SET UP AND DECOR
As this is a cocktail reception there is no doubt you will have cocktail tables included in your set up. Try to ensure that some of these tables have bar top chairs for guests who may want to sit down. You could even incorporate a few smaller bistro tables to give your space some height differences.
Having a lounge area is essentially a must to your cocktail reception. It takes up a lot of space so your room won't look bare and provides seating for your guests as well (while also looking good;)).
It would be best to have 2-3 bars set up throughout your space. This is obviously dependent on how many guests you are inviting but keep in mind people like to hang out around bar areas so it will likely be a crowded space. Consider having an area where guests can help themselves to a beer or wine cooler so line-ups are not an issue.
In terms of decor you can bring in your colours and style through your chair choices, lounge furniture choices, rugs, and linen colours. You can still get personal and inventive with a cocktail reception. In terms of florals I think it is best to incorporate your florals around your seating areas, and your bars. This could be installations behind the bar or in front of it or flowers cascading off your tables in the lounge area. It will up the look and provide a uniqueness to your day.
FOOD
When it comes to cocktail style receptions you are going to want to have a mix of passed canapes and food stations. This way guests are being served smaller portions but if they get hungry they can easily go to a station and grab a bigger serving of a main meal. The wonderful thing about stations is you can essentially make it whatever you want! If you and your partner have a passion for oysters throw in an oyster bar or if sushi is your go to date night have a sushi bar set up! The options are truly endless.
Cocktail style receptions have a rep for being "easier" than a formal sit down but just as much planning and attention has to go into this style of reception.
xx
See Packages