How to Upscale Your Backyard Wedding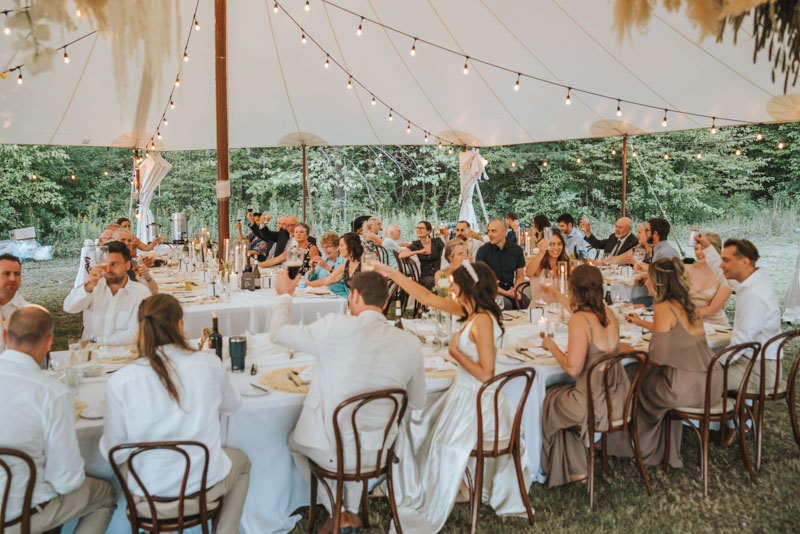 So you want to have a backyard wedding but you don't want it to look too rustic or "cheap". Well great news is you are in the right place to find out how to upscale your backyard wedding! Having planned countless backyard weddings (including my own!) I have gained insight how to upscale your blank canvas to a beautiful wedding setting.
INVEST IN A NICE TENT OR PERGOLA
Depending on where your wedding is taking place in the world adding in a bigger feature gives the venue more of a reception space feel rather than in the middle of a field or yard. A sailcloth tent is a perfect option for a tent. I find they give a more upscale feeling than a frame tent. While frame tents can look tacky and fair-like a sailcloth tent gives more of a spectacular event vibe. If you are hoping for more of an al fresco dining experience opting for something like a pergola or multiple pergolas is a wonderful idea to give the space some notice from farther away.
CONSIDER FLOORING
Weather can be unpredictable and honestly stressful when planning an outdoor wedding. What if the ground is gross, wet, and muddy? You have guests attending in their stunning dresses and handsome suits so why not give your tent area some flooring to elevate your backyard wedding to more of a luxurious vibe?! We LOVE it. Flooring can add that extra hint of luxe that drastically transforms a blank space to a stunning reception area.
LUXURY TOILETS
If you are like me you have likely been to a music festival or outdoor show where using a porta potty was a norm and they were truly horrendous (lol dramatic sounding but like seriously). Treat yourself and your guests to a more luxe experience. We are so lucky today to have multiple options to offer your guests for a "VIP" toilet experience. A lot of luxury portable washrooms are truly nicer than some indoor restrooms! You and your guests will def feel comfortable using these in your gorgeous outfits.
In terms of your decor for a backyard wedding – I could go on forever sooooo let me know if these tips were helpful and I will keep going with some decor tips to upscale your backyard wedding!
xx
See Packages